Andrey Kezzyn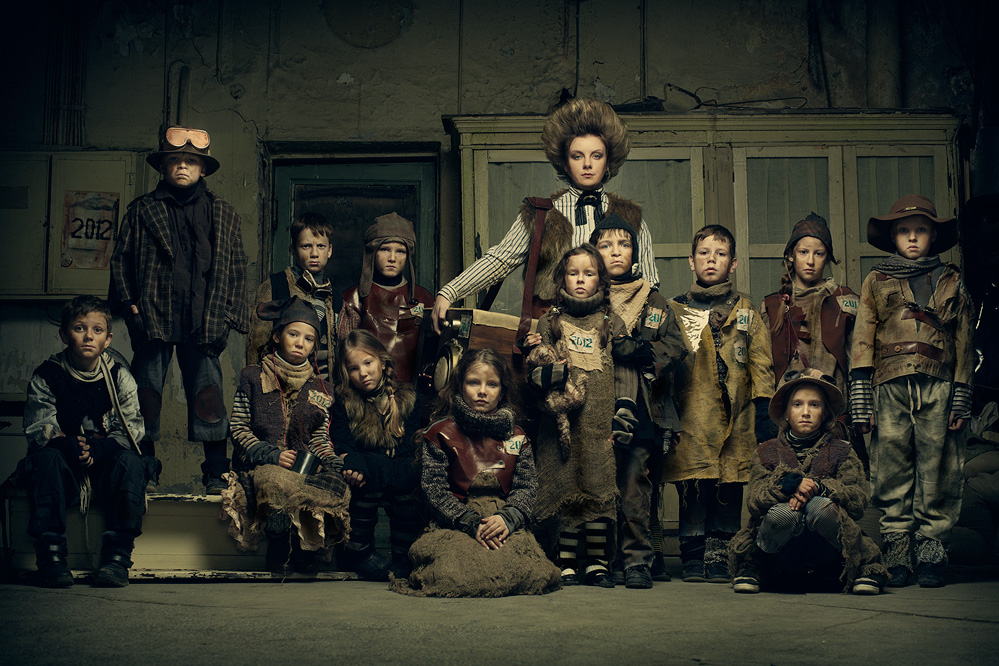 Why so serious?

Allegorical, sarcastic and controversial, Andrey Kezzyn knows nothing of doing things spontaneously or aimlessly. His work is meticulous, detailed and thought-out. With unsettling results, mood also characterizes his unique view of society. And believe it or not, he does not use Photoshop.

By Luciana Acuña. Art critic and curator (Argentina)
Images courtesy of the artist and Galerie Vernon

From Saint Petersburg, thanks to his grandfather, the artist is interested in photography, a pastime that he considers common of the average citizen of the USSR being that "everybody had a camera like Zenit or Smena or FED, a Soviet analogue of Leica, and developed films and printed black and white photos in the bathroom, again the Soviet analogue of a darkroom. The bathroom converted into the darkroom for a couple of hours with the help of several wooden planks and red lamps and after the session was converted back into bathroom," Kezzyn says. From the time he was a child he was part of a local photography club for children, however the ups and downs of life led him to study mechanics for two years even to the army in the Strategic Missile Troops. He was also a truck driver, which led him to travel all over Russia.

It was in 2004 when his career as a professional photographer began to take off, though his current style began in 2010. His prior work was like "school work". Kezzyn describes photography as follows: "I can only say now that photography is easy. It's a kind of job that helps you to be on an on-going adventurous trip. It's my world where I like to return every time, it's the world I'd like to show my children, it's the world where you never know what happens next, just round the corner. Perhaps one day I'll start talking about myself as an artist but this will mean the end of my adventure. And I don't really want it to end, at least now."

Kezzyn is stylistically inspired by Jean-Pierre Jeunet, Gustav Klimt, Tim Burton and Guillermo del Toro. "Jeanet's The City of Lost Children was one of my earliest influences; it's such a beautiful and poignant story that I can even watch it in French though I don't understand a single word. My favourite sweater is similar to the one that the main character wears in the film. The Kiss by Klimt is the only painting I really like. I've fallen in love with it. Tim Burton for me is an ideal of a free and crazy person. And I like his twirls. And Guillermo del Toro turns scary fairy-tales into not that scary ones but esthetically adjusted and acceptable."

He considers himself "lazy", without a set schedule or strict work shift; he carries his studio with him everywhere he goes. He felt liberated after selling the workshop he had for six years; any city could be his studio. Through this he came to understand that studios limit photographers and do not allow them to grow: "It all depends on light, you always search for light, but when you\\'re within the four walls of your studio, you're stuck. When you change the light, you change everything." For this reason he has the freedom to choose the exact camera he needs for each particular work, he rents it and is ready to go. He is considered to be very technical (it is not necessary to say, his photographs are perfect), meticulous. His work ethic reminds me of that of Robert Maplethorpe: the best lighting, the best assistants, the most exquisite composition, the right camera, the appropriate space for the context he seeks, the best makeup artists and film technicians. These last factors are more characteristic of Kezzyn and something that Maplethorpe did not take into account, being that he worked in a closed studio.

His works also have a connection with the history of Russia: "Not deliberately and not in depth though. I'm a multicultural person, I was mostly brought up on foreign films, books and Internet culture but I see what is happening around me, I studied history at school as all children, my grandmother survived during the siege of Leningrad in the World War II, so it's mainly the history of modern times I refer to."

Irony and humor are most important in his pieces: "Why so serious?" he says. This is the question he asks his colleagues, except to those that document war or disaster zones. "But when I see someone who talks about their 'art' and 'creative approach' from the comfort of their photostudio with lots of expensive flashlights and reflecting screens, I always remember Heath Ledger's Joker from The Dark Knight Rises, who grins holding a penknife at his victims throat and asking: 'Why so serious?'"

Film is present in is entire life. His pieces are like cinematographic narratives of unreleased movies, sometimes horror and other times post-apocalyptic. His views on Russian society (especially Russian soldiers) are controversial and he gives new meaning to cultural aspects with an interpretation that is more fun and humorous, yet critical and political as well.

His protagonists are not professional models; they are real people with deeply expressive faces and this is especially remarkable because many times the inspiration for his works comes from popular culture. This isso much so that in his ironic reinterpretation nothing is safe: Game of Thrones, Harry Potter, references to the Win Wenders movies and even religious iconography and art history. Anything is capable of being crossed by his unique, sarcastic and humorous view. A viewer must have a detail-oriented stance and an open mind before the works of Kezzyn to be able to enjoy a narrative beyond what is seen, where sometimes the obvious is not pure fantasy.