Andrey Kezzyn on Widewalls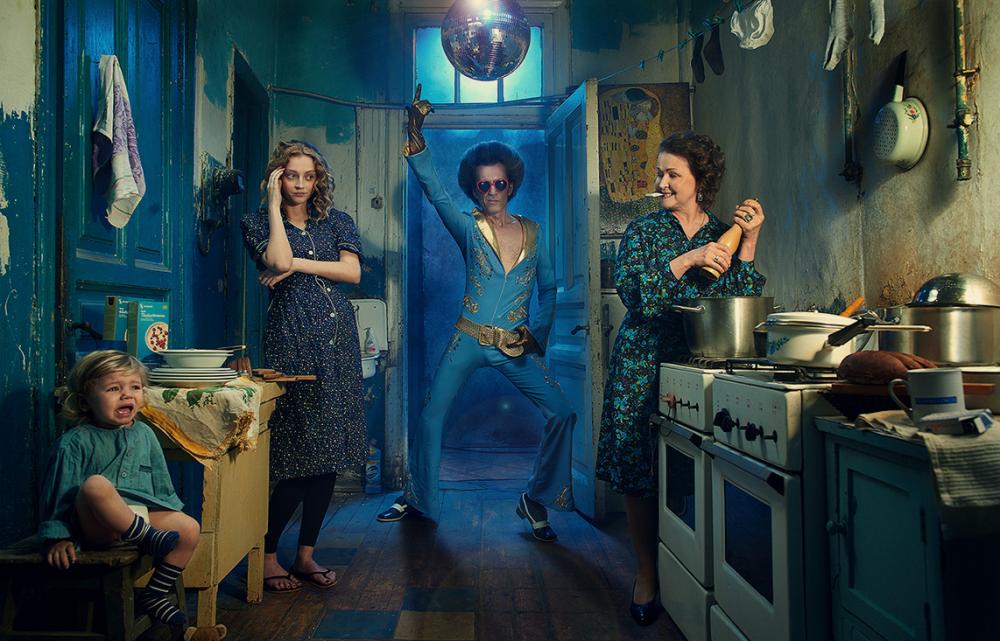 The surreal and bizarre iconography in the photographic work of Andrey Kezzyn has a central role. His series represent narratives from another world perhaps from the deepest corners of the human mind. By referring to popular culture, art or historical phenomenon's, Kezzyn inserts several layers of meanings which make his art a reflection of political, religious and moral values of contemporary society. Prone to theatricality and grandiose settings, the artist produces staged shoots that look like leftovers of the material that was not used for the final cut off some movie spectacle.
Becoming The Artist
Andrey Kezzyn or sometimes known as Kezzyn Waits is born in 1979, in Saint Petersburg. He is a self-taught artist and his previous career was not related to the art world. The enchantment with photography gradually grows since Kezzyn started doing it as a hobby. More than a decade ago he decided to focus exclusively on photo production, started exhibiting and showing his works in other art venues. In the last four years, the artist has been especially concentrated on staged photography which resulted in producing a series of large-scale group images. In 2015 Kezzyn became a member of the Federation of European Photographers (FEP) while back in his hometown started running International Photo Club SUSHKA, which regularly organizes exchange outdoor exhibitions for photography lovers.
Post-Cabaret Punk
Developing personal aesthetics is always governed by hard labor, precision and great will which in the case of Kezzyn proved to be the perfect formula. All of his works came as a result of collaboration within his team although the budgets for productions are modest. The set, make-up, and the costumes are hand-made and his protagonists are not professional models nor actors, yet they are real people. Interestingly, they are all made as one shot. Apparently, the main inspiration comes from the ordinary people and emotional states as love, desire, greed, jealousy, etc, yet they are reminiscent of the dim and seductive atmosphere of cabarets from 20th century interwar period. Therefore, the artist himself coined this particular term in order to describe his own work the best.
The Themes And The Humor
These supremely fictional photos are representations mixed out of myths, real-life stories and common places of art history. Although, driven by humor, they are somehow social satire. One of the best examples is the five-meter-long ironic variation of iconic Da Vinci's Last Supper where all the characters are depicted as police officers. As a matter of fact, the core of his creative process is a well-developed story like which then becomes slightly adapted during the preparations. The final product is always suggestive and addresses to the viewer that she or he is not exclusively to observe as a passive onlooker, yet the work should induce a concrete reaction in order to make the observation process active.
From Mysterious Stillness to Expressive Motion
Aside from being a fine-art and freelance commercial photographer, Kezzyn has also been working as a director for music videos and a theater designer. Especially the collaboration with the band Tiger Lilies well known for their authentic sound and aesthetics established on the macabre magic of pre-war Berlin with the rawness of punk. The artist teamed up with the band in 2013 and the result was a photo session turn out to be a complete success since both sides share the same sensibility. The dramatical and berserk effect was achieved with the focal electric chair and the whole site is full of ambiguity and black humor. Three years later, as a result of swell collaboration, Kezzyn directed the video for their song Public Sin.
The Growing Success
Kezzyn has had personal exhibitions in St. Petersburg, Samara and Prague and his photos are in private and institutional collections in Russia. In addition to that, the artist received a large number of rewards from FEP Professional Photographer of the Year Awards 2015 to The Photographic World Cup 2016. On that account, Kezzyn gained several commissions for videos and photo sessions. The artist's current project is realized in collaboration with The Public House of Art from Amsterdam and is focused on contemporary variations of Da Vinci's Annunciation and Caravaggio's Bacchus. His subversive and controversial works have become some kind of allegories of contemporaneity and represent the good combination of commercial and fine art approach. Without the doubt, Kazzyn's intention to shock is not lame and unadvisedly, yet is well thought and interwoven with wit and criticism.

Andrey Kezzyn lives and works in Berlin.